See inspirational stories from people like you and their experiences with IDELVION
To get more time between doses, high factor levels, and powerful protection from bleeds, more people choose IDELVION when switching their Factor IX (FIX) therapies.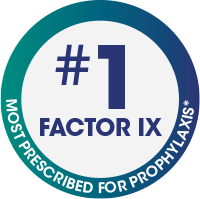 By sticking to his prophylaxis regimen and physical therapy, Tony felt great about his recovery from surgery.
As a police officer, John can focus on the task at hand.
Now Ray is treating every 14 days to prevent bleeds rather than infusing to resolve them.
Milinda now spends less time driving to the hospital and more time with her family.
*Hemophilia FIX Market Assessment, Third-Party Market Research.